Welcome to Lee County Health Department's Website!
The Lee County Health Department protects health, prevents disease, and promotes the health and well-being for all persons in Lee County. Our focus is on the population as a whole, and we conduct our activities through a network of public health professionals throughout the community.
Public health nurses make home visits to families with communicable diseases; environmental health specialists ensure safe food, water, and housing; and all work with community coalitions to advocate for public policies to protect and improve health.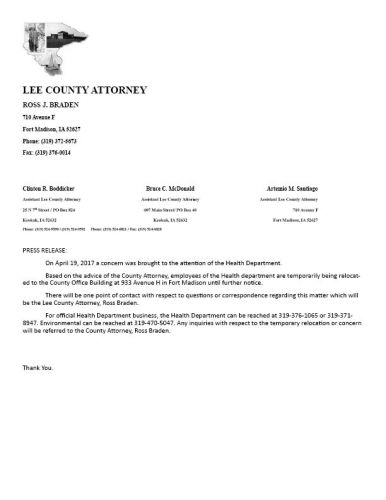 For full content of the above press release click here.
The TB Clinic for Monday, April 24 and the Immunization Clinic for April 27 have been cancelled.  Please continue to visit out website and Facebook page for future schedule and times.
__________________________________
On Saturday, April 29 a FREE Veteran's Health Fair will be held at the Montrose Riverfrom from 9:00am-Noon.  For more information on the event click here.
For food license applications click here.
For Community Resource Information click here.

Be sure to like us on Facebook